This post is all about some cheap ND filters I bought from Amazon. What they are, what they do and why you might want some.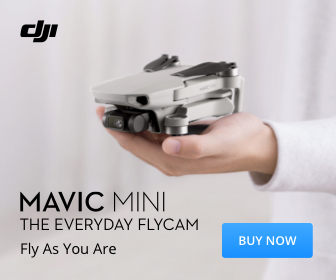 I bought the Mavic Mini as my first drone back in late February of this year. I was IMMEDIATELY blown away by just how much this little guy could do! From the camera to the controls, this thing is an absolute blast to fly. I'll be doing a more extensive review on the Mavic Mini as a whole in another article, but for now, I'll just stick to the camera.
As a long-time hobbyist filmmaker, shooting mostly skateboarding and dumb short films to make my friends laugh, I have always been pretty familiar with the power of digital cameras. It's clear to anyone paying attention, that things were bound to just keep getting smaller and more feature-packed. And the Mavic Mini highlights this trend nicely, with a very capable 24 fps 2.7K camera with the ability to shoot 60 fps at 1080p, all packed into a space no bigger than the cube that your phone charger is plugged into now, and that all hangs eloquently at this little bird's beak, ready to capture any angle desired with dream-like smoothness.
What more do you need?
Well, an ND filter, for starters.
What are ND filters?
An ND (neutral density) filter is a tinted piece of glass or plastic that attaches to the front of your camera lens. It's essentially sun glasses for your camera. Its main purpose, when it comes to shooting video, is to block the light that hits the camera's sensor, allowing you to lower your shutter speed, which is crucial if the end-goal is "cinematic"" motion blur.
Do you need them with the mavic mini?
Short answer, no.
Longer answer, it depends.
What are you shooting? If you're someone like me; a serious hobbyist with the occasional paying gig; and you're looking to get the best looking footage without paying "professional" prices for gear, then yes. Pairing some cheap ND filters, like the Sunnylife ones I found on Amazon, with this cheap but powerful little camera will actually yield some decent results. (see video below)
I get that it's not Hollywood-caliber stuff, but if you're shooting some real-estate here and there, or maybe a small company's social media campaign, or ever a buddy's music video, then this little guy is perfect!
Especially if you're in Canada, like me, the Mavic Mini is light enough to not require any registration, EVEN if you're using it to make money! Granted, you still need a business licence and GST number, like anyone else who has a business. But in the eyes of the Canadian Government, the Mavic Mini is no different than any other camera, it just happens to fly. In my opinion, this makes it a better choice, for people just starting out, than the Mavic Air 2, the Mini's faster and stronger big brother.
How do they fit on the mavic mini?
Attaching these ND filters onto the camera is very easy. Simply press it right onto the front of the lens, and the hook will snap into place onto the vents on the back of the gimbal. It's that easy.
So far, after using these filters extensively over the past 3 months, they haven't so much as wiggle, let alone fall off. I'm extremely confident at this point that they have no issues staying in place.
The ones I use specifically are from a brand called Sunnylife, although I've seen the same exact ones under several different brand names, Skyreat being one example.
There are some higher-quality ones available, from Freewell, and I've heard nothing but good things about them. But if there's a cheaper option that works just as good, then that is definitely going to be my choice. I'll leave a link to the ones I use down below, but please check out some of the other ones to see if there's one that better suits your needs.
Hope you found this article helpful! Please check out the videos above for some sample footage of these filters in action!